Wear your favorite Joke!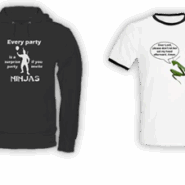 Wearing your favorite Dr. Twittenheimer joke on a comfy t-shirt is as easy to do as writing on fabric with a magic marker!  Or you could visit the 'Wearables' section of the store and see what we're putting together.
We've only just gotten started, so check back to see what's new.  And if you have a favorite that you'd like the shirt-monkeys to put together, just let Dr. Twittenheimer know!